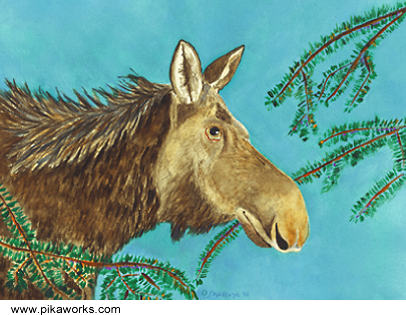 Greeting: Wishing you happiness on your birthday…
Words on Back: Pika Works is named after the delightful but obscure little mammal, the pika, who lives high in the mountains of western North America. The artist also paints moose, cats and other creatures. Big or small, she loves them all.
Dolly was seen wandering in the snowy woods with her daughter for eight days in April. On this day, Dolly's fur was still wet from an early spring rainstorm.
Moose Pad for your Mouse: Dolly loves to have her nose rubbed.
About Prints: Unframed print is attached to foam board with tag on back for quick hanging. Print may be easily detached from backing and framed as you wish ($30). Framed print includes hand painted mat and metal or wood frame ($75). Inquire about customization.
To Order: Check next to the product(s) you would like to order and click Add Items to Basket. You may indicate quantities and add/remove items by viewing your basket now or at check out.