Are you a pika nut?

If pikas really tickle your fancy, like they do ours, the pikas would like to put you on their Pika Enthusiasts' E-mail List. There is no charge. On an occasional and irregular basis you will receive the following by e-mail:
Previews of new photos, cards, and products

Announcements of new info on our Web site

Reminders of upcoming card occasions

Special offers

New pika links

Pika opportunities

Inside scoops and pika reports
The pikas won't pester you.
They will just keep in touch when there is something they are pretty sure you would like to know. But they need your permission. Sign up today!
I'm a pika enthusiast. I'll sign up.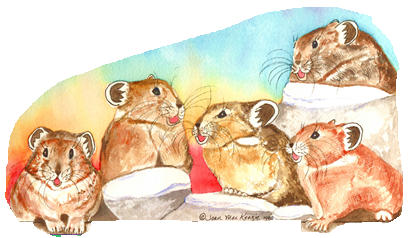 The pikas are happy about your enthusiasm!